How we designed Uma and Raghu's dream house
W hen we met Uma and Raghu from Sarjapura Road, Bangalore, for the first time we realized how passionate they were about their dream home. Both of them had a lot of ideas but were very specific about certain things. They wanted a home that would reflect their persona and we were determined to achieve that goal.
Both our clients were keen on an elegant and sophisticated finish with a contemporary touch. When they came across our website and saw our variety of work for other clients, they knew they had found the right people to complete their project. As we started our work, we needed to plan our design based on a few factors; theme, utility, and personification.
We started off aligning the foyer area design with the living rooms and the dining area. Since there was not a lot of space to explore and utilize, we had to make the most of the available space and put it to good use. The 'MVP' of the design was the false ceiling which set the tone of an elegant look. The warm lighting on the false ceiling makes up a perfect cozy ambiance. In the living area, we installed the beautiful TV unit on a wooden panel with special lighting fitted into the back panel. The top side was used to create a display unit for their artifacts and showpieces.
Uma and Raghu both wanted a Mandir-unit (or a Puja Unit) but with a special touch. So, we decided to go with an elegant finish of a CNC Jali design with a CNC shutter closure. The Puja unit also features two drawer storage units below the main compartment.
Designing the kitchen was comparatively easier as the modular designs let us work on so many different things like installing the right kind of equipment and storage units. The crockery units were given a metal frame shutter which was a huge upgrade from the existing ones. The cooking station was built with a wooden finish quartz counter and a lacquered glass finish backdrop, giving it a professional and sophisticated feel. Like the kitchen, the bathroom was also built keeping the space in mind and we worked on making the space look bigger by separating the bath and toilet area with a glass compartment. We equipped the bathroom with some sleek-looking storage units for the toiletries, towels, and bathrobes. We also took special care of ventilation and natural lighting in the bathroom so that it doesn't feel claustrophobic.
The most important part of the entire project was to design the bedrooms. For Uma and Raghu, the bedrooms needed to fulfill their minimal requirement. So, the master bedroom was designed with a brown-colored stunningly built headboard cushion along with two bedside tables. We built a sliding door wardrobe to save space and maintain the aesthetics.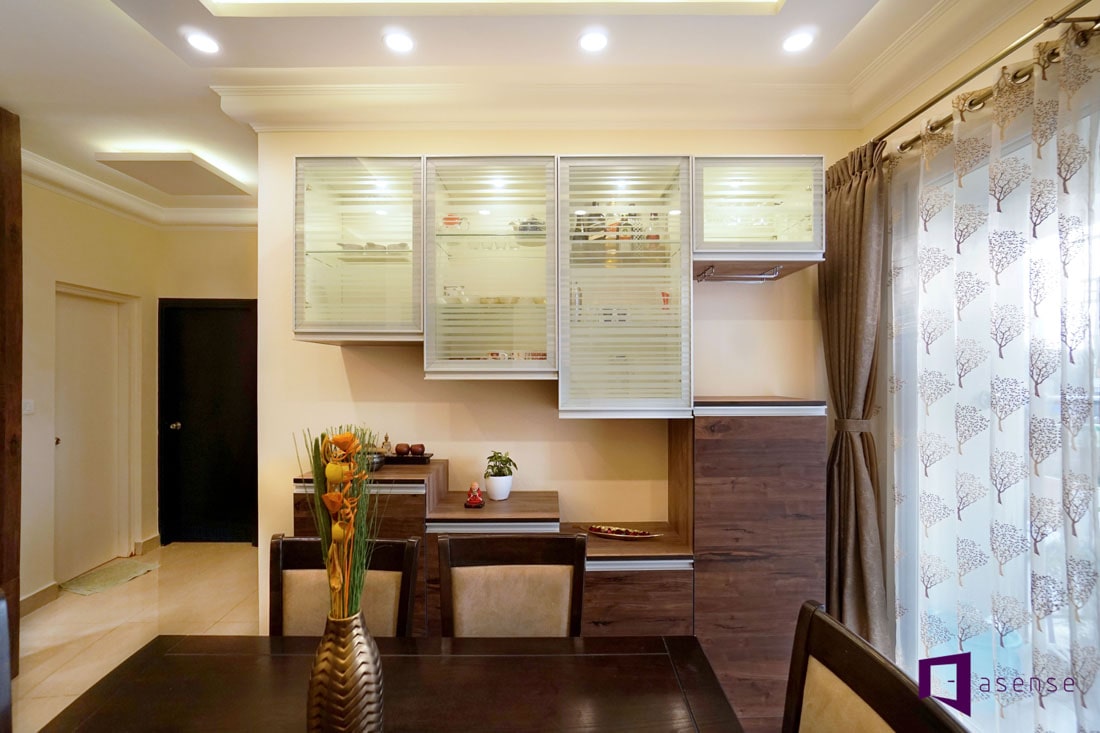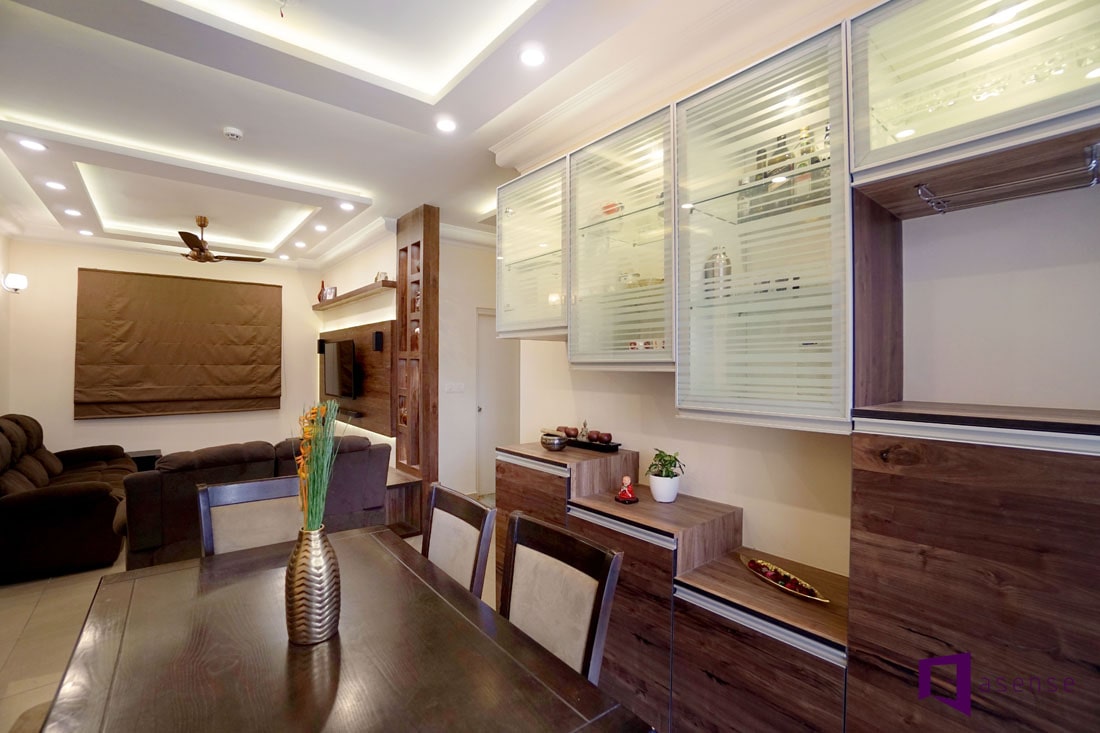 The bedroom for their young daughter was designed to complement her age and nature. We used multiple stimulating colors and designed a study counter beside a double-door font open storage unit. The study counter also features a couple of display units at the top.
To understand exactly what they wanted in terms of the color combinations and wardrobe facilities, had to hear their ideas and choices very thoroughly. After we finished, both of them were extremely satisfied with the results. We were successful in achieving the kind of color and style they were looking for their dream house. We have now added another client to our list who will vouch for our work ethics and quality services. Safe to say, when you hire one of the best interior design companies in Bangalore, you are sure to get the result you have dreamt of.